O

mega

C

ubed.net
Information
The Axis implementation of the MPEG-4 image compression standard follows the ISO/IEC 14496-2 standard.
Related Links
The most common reason for poor quality images is a lack of light. Generally, the more light, the better the image.
When comparing the performance of MPEG standards such as MPEG-4 and H.264, it is important to note that results may vary between encoders that use the same standard.
The are two basic compression standards; JPEG and MPEG
CCD (Charged Coupled Device) and CMOS (Complementary metal oxide semiconductor).
In addition to good light sensitivity, another key feature of digital image capture is progressive scan technology.
Resolution is similar in the analogue or digital worlds, but there are important differences in how it is defined.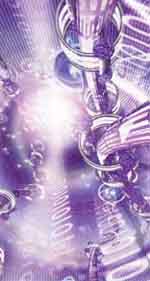 You are Here:- Home >> Knowledge Base >> Axis and MPEG-4
What is MPEG-4?


MPEG-4 is an ISO/IEC standard developed by MPEG (Moving Picture Experts Group), the committee that also developed the Emmy Award winning standards known as MPEG-1 and MPEG-2. These standards made interactive video on CD-ROM and Digital Television possible. MPEG-4 is the result of another international effort involving hundreds of researchers and engineers from all over the world. MPEG-4, whose formal ISO/IEC designation is ISO/IEC 14496, was finalized in October 1998 and became an International Standard in the first months of 1999. The fully backward compatible extensions under the title of MPEG-4 Version 2 were frozen at the end of 1999, to acquire the formal International Standard Status early in 2000. Some work, on extensions in specific domains, is still in progress. MPEG-4 builds on the proven success of three fields: · Digital television;
· Interactive graphics applications (synthetic content);
· Interactive multimedia (World Wide Web, distribution of and access to content) What is MPEG-4? MPEG-4 provides the standardized technological elements enabling the integration of the production, distribution and content access paradigms of the three fields.

MPEG-4 support in Axis products


The Axis implementation of the MPEG-4 image compression standard follows the ISO/IEC 14496-2 standard (also known as MPEG-4 Visual or MPEG-4 Part 2). While the MPEG-4 technology comes with a wide range of different coding tools/settings and options, Axis' implementation provides support for certain subsets of these tools (Profiles and levels) that define the requirements for the decoder or viewing client. Axis network video products support the Advanced Simple Profile (ASP) up to level 5 and the possibility for the Simple Profile (SP).

Motion JPEG vs. MPEG-4


An advantage with certain Axis network cameras and video servers is their ability to generate both Motion JPEG and MPEG-4 simultaneously. As the two formats, Motion JPEG and MPEG-4, usually target different applications, MPEG-4 is not expected to replace Motion JPEG. Motion JPEG is recommended for surveillance applications and recording, thanks to its ease of use, wide compatibility and high image quality. MPEG-4 is recommended for live viewing and for applications where bandwidth and storage limitations are important factors.

MPEG-4 settings


The Axis MPEG-4 implementation enables a wide range of flexible settings for adapting to different application requirements. The system can be optimised for quality, bandwidth, network infrastructure, and compatibility with other decoders. These aspects are discussed in more detail below:

Bandwidth


Axis supports both constant bit rate and variable bit rate. Variable bit rate is the default setting and is recommended as it gives control over image quality. This also makes it difficult to predict what the bandwidth consumption will be. Apart from the image resolution and compression, the bandwidth also depends on the MPEG-4 settings, the image complexity, and the amount of motion in the monitored scene. When bandwidth needs to be controlled, constant bit rate can be used. The user can then give priority to either the frame rate or the image quality when there is increased motion. Another way to control and reduce bandwidth consumption is to fix the frame rate.

Network Infrastructure:




Video streaming - Unicas


Axis provides several ways of streaming MPEG-4 Unicast controlled by RTSP (Real Time Streaming Protocol). The method to use depends on the requirements of the application. RTSP provides better streaming control than MPEG-4 over HTTP.

The Axis MPEG-4 implementation provides the following choices:
1. Unicast RTP (Real-time Transfer Protocol). The most effective method and the one with the lowest latency.
2. RTP over RTSP. This is RTP tunnelled over RTSP, which can be used to exploit the fact that it is relatively simple to configure firewalls to allow RTSP traffic.
3. RTP over RTSP over HTTP. Tunnelling via HTTP can be used to pass a firewall located between the camera/video server and the client.

Video streaming - Multicast


Multicast RTP has the advantage of reducing the bandwidth required for multiple clients viewing the same video stream. The disadvantage is that it will not work in large networks or over the Internet, as most network routers routinely disable multicast traffic.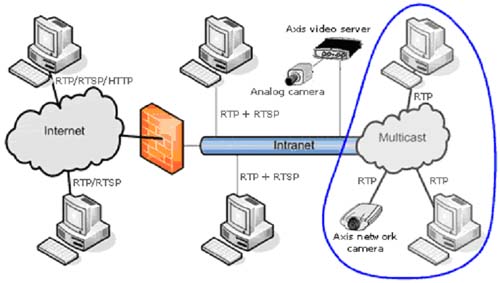 Compatibility


Axis' MPEG-4 implementation may be configured for use with other decoders such QuickTime™. The Video object type can be set to either Advanced Simple or Simple (H.263 compression), or by enabling or disabling ISMA (Internet Streaming Media Alliance) compliance.

MPEG-4 Licensing


MPEG-4 is a licensed technology. A license is required for both encoding and decoding MPEG-4 streams. Each Axis product provides one encoder license and one decoder license. Axis provides high quality MPEG-4 Decoder with each product. Further AXIS MPEG-4 Decoder 10-user license packs can be purchased from Axis. When using other MPEG-4 decoders (e.g. QuickTime), no additional licenses from Axis are required.