O

mega

C

ubed.net
Related Links
The syntax of the commands.
Light levels and reflectances in typical environments.
Digital cameras use image compression.
For surveillance installations that require many channels Axis 240 "Blade" versions are available for use with the Axis Video Server Rack.
A calculator to help you determine the bandwidth your network video server will use, based on the image size and frame rate.
An IP address (Internet Protocol address) is a unique number that devices use in order to identify and communicate with each other on a network utilizing the Internet Protocol standard.
MPEG-4 is an ISO/IEC standard developed by MPEG (Moving Picture Experts Group), the committee that also developed the Emmy Award winning standards known as MPEG-1 and MPEG-2.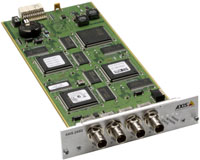 You are Here:- Home >> Products >> Axis Video Servers >> Axis 243Q Blade b>
AX

IS 243Q Blade

Network Video Server


The Axis 243Q Blade Video Server enables high resolution, full frame rate video surveillance and remote monitoring in MPEG-4 or Motion JPEG on all four channels. The video server converts analogue video into high quality, de-interlaced digital video, and can deliver the highest resolution, 4CIF, at 30/25 (NTSC/PAL) frames per second.

The server's serial port enables pan/tilt/zoom control over the network, and its support for Quality of Service (QoS) helps secure the necessary bandwidth for streaming video and control commands over a network. In addition, a comprehensive set of security features, including multiple user access levels, HTTPS encryption, IEEE802.1X and IP address filtering, ensures secure video handling and configuration. The Axis 243Q supports Internet Protocol version 6 (IPv6) in addition to IP version 4 as an insurance against the growing shortage of IPv4 addresses.
AX
IS 243Q Blade
Network Video Server
Features
MPEG-4 Part 2 (ISO/IEC 14496-2), Profiles: ASP and SP Motion JPEG
Resolutions: 4CIF, 2CIFExp, 2CIF, CIF, QCIFMax: 704x480 (NTSC)/704x576 (PAL) Min: 160x120 (NTSC)/176x144 (PAL)
Compression levels: 11 (Motion JPEG)/23 (MPEG-4)
Image Settings:
Rotation: 90º, 180º, 270º
Aspect ratio correction
Color: color, black & white
Overlay capabilities: time, date, text, image or privacy maskDe-interlace filter
High quality, de-interlaced video at 30 (NTSC) or 25 (PAL) frames per second in all resolutions
Simultaneous Motion JPEG and MPEG-4 streams
Advanced event handling: - events triggered by an intelligent video application
Built-in video motion detection with multiple ways of notification via e-mail, TCP and HTTP
Video uploading via e-mail, FTP and HTTP
4 x 9 MB pre/post alarm memory
Connectors: 4 x Analogue composite video, PAL/NTSC auto-sensing BNC inputs.
Via Axis 291 1U Video Server Rack:
Ethernet 10BaseT/100BaseTX/1000BaseT (Gigerbit Ethernet). 4 alarm inputs, 4 alarm ouputs, RS-485/422 half-duplex port
Pan/Tilt/Zoom: Wide range of analogue PTZ cameras supported
20 presets/camera, Guard tour, PTZ control queue
Supports Windows compatible joysticks
Security: Multiple user access levels with password protection, IP address filtering, HTTPS encryption, IEEE 802.1X authentication
Alarm and event management:
Events triggered by video motion detection, external inputs, PTZ presets, product restart, video loss, or according to a schedule. Image upload over FTP, email, HTTPNotification over TCP, email, HTTP, external outputs
Powered from Axis 291 1U Video Server Rack
Operating conditions: 0-45 ºC (32-113 ºF)Humidity 20-80% RH (non-condensing)
Supported protocols: IPv4/v6, HTTP, HTTPS, SSL/TLS*, TCP, QoS, SNMPv1/v2c/v3 (MIB-II), RTSP, RTP, UDP, IGMP, RTCP, SMTP, FTP, ICMP DHCP, UPnP, Bonjour, ARP, DNS, DynDNS, SOCKS, IEEE802.1X. More information on protocol usage available at www.axis.com
*This product includes software developed by the Open SSL Project for use in the Open SSL Tool kit www.openssl.org
Dimensions: 30mm x 130mm x 255mm (1.2" x 5.1" x 10.0")
Weight: 270g (0.6 lbs)
High-density video encoder rack solution


The Axis 291 1U Video Server Rack is a 19'' rack that can use any combination of up to 3 interchangeable and hot-swappable Axis blade video servers. The Axis video server rack solution migrates 4-12 analogue cameras to IP-based, digital video streams using a single Ethernet port. The combination of AxisS 243Q Blades together with the Axis 291 1U thus makes a higher density of video channels compared to a standalone solution

AX

IS 243Q Blade

Network Video Server
Included Accessories

Installation Guide, CD with installation and management tools, software and User's Manual, MPEG-4 licenses (1 encoder, 1 decoder), MPEG-4 decoder (Windows)
AX
IS 243Q Blade
Network Video Server
Optional Accessories
Request Information:
E-mail [Find out more...] Axis 243Q Blade Video Server and Axis 291 Video Server Rack "Technical Data Sheet", 309 kB pdf file.
[Find out more...]
Axis 243Q Blade Video Server "User's Manual", 3.057 MB pdf file.
[Find out more...]
Axis 243Q "Installation Guide", 2.778 MB pdf file.
[Find out more...]
Axis Media "User's Manual", 628 kB pdf file.
To view the .pdf file, you will need the free Adobe® Acrobat® Reader or plug-in. If you do not have Acrobat Reader, please select the "Get Acrobat Reader" icon for further instructions.

AX

IS 243Q Blade

- Order Details
Axis 243Q Blade
Region
Part Number
EUR
0256-002
UK
0256-003