O

mega

C

ubed.net
Related Links
The syntax of the commands.
Light levels and reflectances in typical environments.
Digital cameras use image compression.
For surveillance installations that require many channels Axis 241Q/241QA "Blade" versions are available for use with the Axis Video Server Rack.
A calculator to help you determine the bandwidth your network video server will use, based on the image size and frame rate.
MPEG-4 is an ISO/IEC standard developed by MPEG (Moving Picture Experts Group), the committee that also developed the Emmy Award winning standards known as MPEG-1 and MPEG-2.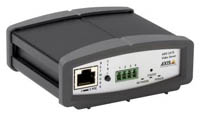 You are Here:- Home >> Products >> Axis Video Servers >> Axis 247S b>
AX

IS 247S

Network Video Server


The compact Axis 247S is ideal for distributed installation close to the analogue camera, where space constraints call for an optimised solution, e.g. for video surveillance with small and discreet cameras in retail stores. Axis video servers provide the opportunity to take advantage of all the benefits that digital technology offers, perfect for installations where analogue fixed cameras are to be used in an IP-based video surveillance systems.
Ease of installation
The compact Axis 247S may be mounted on a wall or ceiling. It is Power over Ethernet (PoE) enabled, and can also provide power to the camera, eliminating the need for power outlets. Power classification 2 or 3 is selectable, enabling optimisation of the PoE-enabled network – either providing just enough power for a miniature camera, or for supplying a standard analogue camera.
Powerful video and event management
The Axis 247S allows for powerful event management with multi-window motion detection, audio detection and I/O (input/output) for connecting devices such as sensors and external relays to activate lights or open/close doors. Pre/post-image alarm buffering secures images just before and after an alarm. The Axis 247S is supported by Axis Camera Station video management software, which offers remote video monitoring, recording and playback.
See Axis 247S Network Video Server - Overview for information on the advanced features of the Axis 247S.

AX

IS 247S

Network Video Server
Features

High quality video at 25 frames per second (PAL) at resolutions up to 704x576
Simultaneous JPEG and MPEG-4 video streams
De-interlace filter which improves image quality in the highest resolution (4CIF)
video compression levels; 11 Motion JPEG, 23 MPEG-4
Built-in video motion detection
Multi user level password protection, IP address filtering, HTTPS Encryption, Iee 802.1x authentication
Support for Quality of Service (QoS) which helps secure the necessary bandwidth for streaming video and control commands over a network
Supports Internet Protocol version 6 (IPv6) in addition to version 4.
Powerful Application Programming Interface (API) for software integration, including Axis VAPIX and Axis Media Control SDK. Flash memory for upload of embedded applications
1 alarm input and 1 output
Image customisation with text, time/date and image overlay
Support for up to 20 simultaneous users (unlimited with MPEG-4 multicast)
Integrated 1-way audio support
Casing: Metal, stand alone or with brackets for wall mounting
Dimensions: height; 41mm (1.6"), width; 98mm (3.8"), depth; 99mm, (3.9")
Weight: 214 g (0.47 lbs)
Operating environment:
Temperature; 0°- 50° C (32°- 122° F)
Humidity; 20 - 80% RHG.
Power: Power over Ethernet (IEEE 802.af) with dip-switch selectable power classification:
Class 2 max 1.4W for powering camera
Class 3 max 5.0W for powering the camera
Axis 217S uses a maximum of 5.0W
Alternative power connection using terminal block 7 - 15 V DC
AX
IS 247S
Network Video Server
Included Accessories
Installation guide, user's manual, management tool
MPEG-4 licenses (1 encoder, 1 decoder)
Terminal connector kit
AX
IS 247S
Network Video Server
Optional Accessories
Milestone Xprotect is based on four main offerings scaled in functionality and price which offer multi-hardware support and robust performance. Milestone XProtect can control up to 64 cameras per server, with multiple servers and multiple sites.
Axis Camera Station software offers Windows PC users all the necessary video recording and monitoring functions for security surveillance. The software supports up to 25 cameras/video servers per installation and an unlimited recording database (limited only by hardware!).
Axis MPEG-4 Decoder 10-user license pack
Request Information:
E-mail [Find out more...] Axis 247S "Technical Data Sheet", 1.06 MB pdf file.
[Find out more...]
Axis 247S "Installation Guide", 1.01 MB pdf file.
[Find out more...]
Axis 247S Video Server "User's Manual", 1.85 MB pdf file.
[Find out more...]
Setting Up an IP-Surveillance System", 3.14 MB pdf file.
[Find out more...]
Axis Media "User's Manual", 628kB pdf file.
To view the .pdf file, you will need the free Adobe® Acrobat® Reader or plug-in. If you do not have Acrobat Reader, please select the "Get Acrobat Reader" icon for further instructions.

AX

IS 247S

- Order Details
Axis 247S
Region
Part Number
EUR
0272-001
UK
0272-001