O

mega

C

ubed.net
Comparable Products
Related Links
The syntax of the commands.
Light levels and reflectances in typical environments.
Digital cameras use image compression.
A calculator to help you determine the bandwidth your network video server will use, based on the image size and frame rate.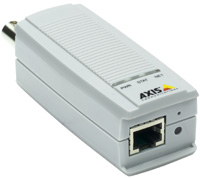 You are Here:- Home >> Products >> Axis Video Servers >> Axis M7001 b>
AX

IS M7001

Network Video Server


The one-channel Axis M7001 Video Server offers a highly compact design with superb H.264 performance. It provides an easy and cost-effective solution for integrating small or large numbers of analogue CCTV cameras into an IP-based video surveillance system.
The easy way to a smarter CCTV system
The palm-sized, standalone Axis M7001 is designed for installation close to an analogue camera. It supports all types of analogue cameras including PTZ (pan/tilt/zoom) and PTZ domes. The Axis M7001 is perfect for small and large analogue video installations, especially where an IP network infrastructure is already in place. Its small size also makes it ideal for use in discreet surveillance applications, for example, in retail stores and banks, and in camera housings.
Reduced bandwidth and storage
The Axis M7001 can deliver two simultaneous video streams, one in H.264 and another in Motion JPEG, at full frame rate in all resolutions up to D1 (720x576 in PAL). The H.264 video compression format drastically reduces bandwidth and storage requirements without compromising image quality. Motion JPEG is supported for increased flexibility. The video encoder also provides video motion detection. The Axis M7001 is powered over Ethernet using the same cable as for data transmission, which simplifies installation.
Axis M7001 Covert Surveillance Kit
The video encoder can feed power to the small covert camera that is included in the Axis M7001 Covert Surveillance Kit. The kit consists of one Axis M7001 Video Encoder and one small IP66-rated covert camera.
AX
IS M7001
Network Video Server
Features
High quality video at 25 frames per second (PAL) at resolutions up to D1 (720x576 in PAL)
Two simultaneous video streams, one in H.264 and one in Motion JPEG
De-interlace filter which improves image quality in the highest resolution (4CIF)
Built-in video motion detection
Password protection, IP address filtering, HTTPS encryption, digest authentication, user access log
Powerful Application Programming Interface (API) for software integration, including Axis VAPIX and Axis Media Control SDK. Flash memory for upload of embedded applications
Inteligent video alarm trigger
Image customisation; compression, color, brightness, contrast, saturation, rotation, aspect ratio correction, mirroring of images, text overlay, privacy mask
Pan/Tilt/Zoom; Wide range of analogue PTZ cameras supported (drivers available for download at www.axis.com). 20 presets, guard tour, PTZ control queue Supports Windows compatible joysticks
Casing: stand alone or with brackets for wall mounting
Dimensions: height; 30.1mm (1.2"), width; 37.4mm (1.5"), depth; 101mm, (4.0")
Weight: 82 g (0.18 lbs)
Operating environment:
Temperature; 0°- 50° C (32°- 122° F)
Humidity; 20 - 80% RHG.
Power: Power over Ethernet (IEEE 802.af) Class 2
AX
IS M7001
Network Video Server
Included Accessories
Installation guide, user's manual, management tool
Mounting kit
Terminal connector kit
AX
IS M7001
Network Video Server
Optional Accessories
Milestone Xprotect is based on four main offerings scaled in functionality and price which offer multi-hardware support and robust performance. Milestone XProtect can control up to 64 cameras per server, with multiple servers and multiple sites.
Axis Camera Station software offers Windows PC users all the necessary video recording and monitoring functions for security surveillance. The software supports up to 25 cameras/video servers per installation and an unlimited recording database (limited only by hardware!).
Request Information:
E-mail
[Find out more...]
Axis M7001 "Technical Data Sheet", 488 kB pdf file.
[Find out more...]
Axis M7001 "Installation Guide", 2.119 MB pdf file.
[Find out more...]
Axis M7001 "User's Manual", 5.001 MB pdf file.
[Find out more...]
Setting Up an IP-Surveillance System", 3.14 MB pdf file.
[Find out more...]
Easy Path To Network Video, 1.697 MB pdf file.
To view the .pdf file, you will need the free Adobe® Acrobat® Reader or plug-in. If you do not have Acrobat Reader, please select the "Get Acrobat Reader" icon for further instructions.

AX

IS M7001

- Order Details
Axis M7001
Region
Part Number
EUR/UK
0298-001
Axis M7001 Surveillance Kit
Region
Part Number
EUR/UK
0298-031