O

mega

C

ubed.net
Comparable Products
Related Links
Help on the installation of an Axis Network Camera on an IP-Network.
A (Free !) software solution for the simultaneous viewing and recording of high-quality H.264, MPEG-4 and Motion JPEG video from a single surveillance camera.
Offers Windows PC users all the necessary video recording and monitoring functions for security surveillance for up to 50 cameras/video servers per installation
A powerful and efficient installation and management tool for use with Axis video products
The syntax of the commands.
Light levels and reflectances in typical environments.
Digital cameras use image compression.
The range of lighting from bright sunlight to clear starlight is 109:1 (100,000,000):1.
A calculator to help you determine the bandwidth your network camera will use, based on the image size and frame rate.
Axis video products carrty a 3-year or 1-year warranty.
Infrared is invisible to the human eye but can be detected by a monochrome camera. It lies approximately between 700nm and 1000nm (1 micron).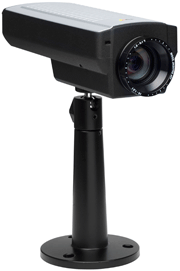 You are Here:- Home >> Products >> Network Cameras >> Axis Cameras >> Fixed Cameras >> Axis Q1755
AX

IS Q1755

Fixed Network IP Camera


The Axis Q1755 Network Camera connected to an HDTV monitor is the perfect solution for securing areas where greater image detail is required, such as airports, passport controls and casinos. The Axis Q1755 complies with the SMPTE (Society of Motion Picture and Television Engineers) standards for HDTV. The camera delivers HDTV 1080i or 720P resolution, 16:9 aspect ratio at 25 fps (PAL). The Axis Q1755 supports both H.264 and Motion JPEG in full frame rate. With day & night functionality and a progressive CCD, it provides exceptional quality images even of fast moving objects in all lighting conditions - without any motion blur. With 10x's optical zoom, 12x's digital zoom and auto focus, it can instantly provide the desired field of view in perfect focus. The camera has a built-in slot for an SD/SDHC memory card which makes it possible to store days of recording without any external equipment. Power over Ethernet (IEEE 802.3af) supplies power to the cameras via the network.

The Axis Q1755 includes video intelligence such as enhanced video motion detection, audio detection and detection of camera tampering such as blocking or spray-painting. In addition, it includes a Gatekeeper functionality which automatically zooms in when there is activity in the scene, and then zooms out after a preset time interval.
AX
IS Q1755
Fixed Network IP Camera
Features
10x's optical and 12x's digital zoom (total 120x's)
Progressive scan CCD
Day/Night functionality: automatic day/night IR-cut filter. See also Infrared Illuminators
Superior image quality with simultaneous Motion JPEG and H.264 video streams
Resolutions:
HDTV 1080i 1920x1080
HDTV 720p 1280x720
Standard NTSC/PAL for installation
Frame rate, up to 25 frames per second (PAL) for all resolutions
Half duplex audio with audio detection alarm
Built-in microphone, external microphone or line input, line output
Audio Compression:
AAC LC 8/16 kHz
G.711 PCM 8 kHz
G.726 ADPCM 8 kHz Configurable bit rate
Minimum illunimation:
Color: 2 lux at 30IRE, F1.8
Monochrome: 0.2 lux at 30IRE, F1.8
Image settings:
Compression, brightness, sharpness, white balance, exposure control,
backlight compensation, rotation, mirroring of images
Text and image overlay
Privacy mask
Shutter time: 1/10000 s to 1/2 s
Security:
Password protection, IP address filtering, HTTPS encryption, IEEE 802.1X network access control, digest authentication, user access log
Supported Protocols:
IPv4/v6, HTTP, HTTPS, QoS Layer 3 DiffServ, FTP, SMTP, Bonjour, UPnP, SNMPv1/v2c/v3(MIB-II), DNS, DynDNS, NTP, RTSP, RTP, TCP, UDP, IGMP, RTCP, ICMP, DHCP, ARP, SOCKS
Intelligent video:
Video motion detection, active tampering alarm, audio detection, Gatekeeper
Alarm triggers:
Intelligent video, temperature and external input
Alarm events:
File upload via FTP, HTTP and email Notification via email, HTTP and TCP
External output activation
Supports Quality of Service (QoS) which helps to ensure the necessary bandwidth for streaming video and control commands over the network
Supports Internet Protocol version 6 (IPv6) in addition to version 4.
Video Buffer: 96Mb
Power:
8 – 20 V DC max 11.2 W
20 - 24 V AC max 17.4 VA
Power over Ethernet IEEE 802.3af Class 3
Power supply not included
Power:
Connectors:
RJ-45 10BASE-T/100BASE-TX PoE, terminal block for power, I/O terminal block for two configurable inputs/outputs
3.5 mm mic/line in, 3.5 mm line out
RS-422/RS-485
Video out: 3x RCA Y/Pb/Pr (HD), 1x RCA Composite (SD)
Local storage: SD/SDHC memory card slot (card is not included)
Dimensions: height; 170mm (6.69"), width; 170mm (6.69"), depth; 209mm, (8.23")
Weight: 985 g (2.17 lb)
Operating environment:
Temperature; 0° - 45° C (32°- 113° F)
Humidity; 20 - 80% RHG.
AX

IS Q1755

Fixed Network IP Camera
Included Accessories
Connector kits, Installation Guide, CD with installation tools, recording software and User's Manual, Windows decoder 1-user license

AX

IS Q1755

Fixed Network IP Camera
Optional Accessories
Request Information:
E-mail
[Find out more...]
Axis Q1755 Network IP Camera "Technical Data Sheet", 421 kB pdf file.
[Find out more...]
Axis Q1755 Network IP Camera "User's Manual", 1.75 MB pdf file.
[Find out more...]
Axis Q1755 "Installation Guide", 1.4 MB pdf file.
[Find out more...]
HDTV (High Definition Television) and video surveillance, "White Paper", 238 kB pdf file.
To view the .pdf file, you will need the free Adobe® Acrobat® Reader or plug-in. If you do not have Acrobat Reader, please select the "Get Acrobat Reader" icon for further instructions.
AX
IS Q1755
- Order Details
Axis Q1755
Version
Part Number
50Hz
0303-011
60Hz
0304-001