O

mega

C

ubed.net
Information
TIMENET, a GPS Master NTP Time Server, provides a low-cost solution to the problem of providing accurate reference time signals for CCTV recording equipment.
Related Links
Veracity CAMSWITCH Plus switches are 4 or 8-port IEEE 802.3af/at PoE switces especially designed for IP video applications.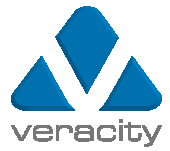 You are Here:- Home >> Products >> Network Solutions >> Veracity >> Timenet
- NTP Server and GPS Receiver

TIMENET provides a low-cost solution to the problem of providing accurate reference time signals for CCTV recording equipment. CCTV and digital video recorder (DVR) installations require accurate reference time signals for synchronisation of system clocks to ensure that they are always set at the precisely correct time. It is crucial that all recordings are accurately time-stamped, especially for evidential purposes. Many DVR products, especially those which are PC-based, have inaccurate internal clocks which drift by many seconds per week. Many DVR systems may be left unattended for months on end, and the time settings can end up being in error by many minutes.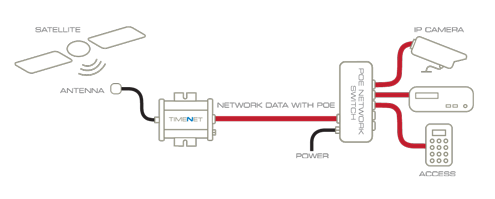 The traditional solution to providing an accurate reference time has been to use an atomic clock radio receiver or GPS sensor linked to an expensive rack-mounted master clock server, typically with serial-only output. Network output versions tend to be even more expensive. For this reason, master reference clocks are normally only used in very high-end installations such as city centres, airports and prisons. TIMENET integrates the GPS receiver and master NTP clock server into a single device which can be directly connected to the network. TIMENET is extremely compact, can be wall-mounted, uses very little power and is less than half the cost of competing solutions.
Accurate universal atomic clock reference
Supports all NTP compatible devices
Ideal for CCTV and DVR applications
Far lower cost than competing products
Ideal for closed or secure networks
Direct network interface for remote siting
Simple setup - One IP address
Automatic GPS lock and time sync
POE or optional DC power
Extremely compact design
Indoor location (antenna on a window)
Wall mounting
Integral watchdog for long-term reliable operation
Robust, self contained unit
Wide operating temperature range
Very low power use

- Installation and Setup

The time server unit is very simple to install and set up. The GPS antenna is included with the TIMENET product. The antenna itself is provided with a self-adhesive surface which can be affixed to any window which has a view of some sky (to pick up the GPS satellite transmissions). The TIMENET unit can be positioned anywhere within the 3m reach of the antenna lead, and may be conveniently wall-mounted with the integral brackets supplied. TIMENET is then connected to the network through its RJ45 connector directly to the CCTV/DVR network using a standard CAT5 cable (up to 100m long). The TIMENET setup program is run on any Windows PC, and the only parameter to set is the desired IP address of the TIMENET device. This completes the time server installation. Any DVR or other NTP-compatible network devices can now be programmed to get their NTP time signals from the IP address of the TIMENET server.

- Technical Specifications
Time Source
GPS Satellite
Protocol
NTP Stratum 1 Time Server
Accuracy
Ethernet NTP ± 100ms overall, GPS source ±0.1µs
Antenna
GPS sensor on 3m cable (included)
Connectivity
10/100BaseT Ethernet, RJ45
Status indicators
Green LED - long pulse : OK; - short pulse : no lock
Amber LED – network connectivity
Power
IEE 802.3af Class 1 PoE powered device
Optional 12V DC External power supply (not included)
Power consumption 0.9W
Dimensions
W: 67mm x D: 92mm x H: 33mm, (W:86mm with wall mounting brackets)
Operating Temperature
-15C to 75C (5F to 125F)
Relative Humidity
95% non-condensing
Approvals
CE, FCC, RoHS
Warranty
3 years

- Documentation
[Find out more...]
Veracity TIMENET "Technical Data Sheet", 1,541 kB pdf file.
[Find out more...]
Veracity TIMENET "Quick Start Guide", 897 kB pdf file.
To view the .pdf file, you will need the free Adobe® Acrobat® Reader or plug-in. If you do not have Acrobat Reader, please select the "Get Acrobat Reader" icon for further instructions. Request Information:
E-mail

- Order Details
O

mega

C

ubed.net does not sell on-line. Orders (See Order Options for Details) can be placed by telephone, email or fax.
| | |
| --- | --- |
| Product Code | Description |
| VTN-TN | TIMENET. GPS NTP time server with indoor antenna |
| VTN-TN-XA | TIMENET. GPS NTP time server with outdoor antenna |
| VTN-GPS | TIMENET. GPS coordinate and NTP time server |