O

mega

C

ubed.net
Comparable Products
Axis M3114-R Fixed Dome Network IP Camera for megapixel resolution
Related Links
Power over Ethernet, (PoE) is a technology that integrates both power and data over a standard Category 5 Ethernet cable Local Area Network (LAN) infrastructure.
Help on the installation of an Axis Network Camera on an IP-Network.
A (Free !) software solution for the simultaneous viewing and recording of high-quality H.264, MPEG-4 and Motion JPEG video from a single surveillance camera.
Offers Windows PC users all the necessary video recording and monitoring functions for security surveillance for up to 50 cameras/video servers per installation
A powerful and efficient installation and management tool for use with Axis video products
The syntax of the commands.
Light levels and reflectances in typical environments.
Digital cameras use image compression.
The range of lighting from bright sunlight to clear starlight is 109:1 (100,000,000):1.
A calculator to help you determine the bandwidth your network camera will use, based on the image size and frame rate.
Axis video products carry a 3-year or 1-year warranty.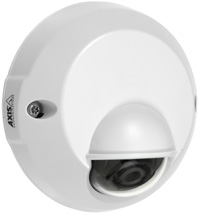 You are Here:- Home >> Products >> Network Cameras >> Axis Cameras >> Fixed Dome >> Axis M3113-VE
AX

IS M3113-VE

Fixed Dome IP Camera


Designed for placement near building entrances to strengthen security, the palm-sized Axis M3113-VE Network Camera is a cost-effective, ultra-discreet fixed dome for monitoring outdoor entrance areas of stores, restaurants, hotels, banks and offices. The camera is vandal-resistant and can detect tampering attempts such as blocking or spray-painting. The camera can operate in temperatures from 50°C (122°F) down to -20°C (-4°F). The UV-resistant casing comes with a weather shield for protection from sunlight, rain and snow. Models without the weather shield, which provide a greater tilt range, are suitable for semi-outdoor, ceiling-mount installations where the shield is not required, such as in a cold storage room or under a porch. Naturally they can be used indoors as well
Excellent video quality at full frame rate

The Axis M3113-VE has support for SVGA streaming at full frame rate. The use of progressive scan produces clearer images of moving objects. The pixel counter helps verify that the pixel resolution of an object or face meets regulatory or specific customer requirements.

Quick and reliable installation

The camera is designed for quick and reliable installation. The desired field of view and a levelled image can be easily achieved by using the supplied lens tool to direct and rotate the ball that holds the lens and image sensor. Power over Ethernet support further simplifies installation since only one cable is needed for carrying power and video.
AX
IS M3113-VE
Fixed Dome IP Camera
Features
Models: Axis M3113-VE: SVGA resolution, weather shield, 2.9 mm lens
Axis M3113-VE Nocap: SVGA, no weather shield, 2.9 mm lens
Image sensor: 1/4" progressive scan RGB VGA CMOS
Lens: M12 mount, fixed iris
Axis M3113-VE/Nocap: 2.9 mm, 66° view, F2.0
Light sensitivity: 1 - 100000 lux, F2.0
Shutter time: 1/24 500 s to 1/6 s
Camera angle adjustment: Axis M31-VE: Pan ± 30°, tilt 0° - 65°, rotation ± 180°
Axis M31-VE Nocap: Pan ± 30°, tilt 0° - 90°, rotation ± 180°
Video compression: H.264 (MPEG-4 Part 10/AVC), Motion JPEG
Resolutions: 160x90 to 800x600
Frame rate: 25 fps (PAL) in all resolutions
Video streaming Multiple, individually configurable streams in H.264 and Motion JPEG. Controllable frame rate and bandwidth. VBR/CBR H.264
Pan/Tilt/Zoom: Digital PTZ, preset positions, guard tour
Image settings: Compression, color, brightness, sharpness, contrast, white balance, exposure control, exposure zones, backlight compensation, wide dynamic range - dynamic contrast, fine tuning of behavior at low light, mirroring of images Rotation: 0°, 90°, 180°, 270°, including Corridor Format Text and image overlay, privacy mask
Security: Password protection, IP address filtering, HTTPS encryption, IEEE 802.1X network access control, digest authentication, user access log
Supported protocols: Internet Protocol version 6 (IPv6) in addition to version 4, HTTP, HTTPS, QoS Layer 3 DiffServ, FTP, SMTP, Bonjour, UPnP, SNMPv1/v2c/v3 (MIB-II), DNS, DynDNS, NTP, RTSP, RTP, TCP, UDP, IGMP, RTCP, ICMP, DHCP, ARP, SOCKS
Intelligent video Video motion detection, active tampering alarm, Axis Camera Application Platform
Events: Intelligent video
Alarm actions: File upload via FTP, HTTP and email; notification via email, HTTP and TCP; video recording to edge storage; pre- and post-alarm video buffering
Installation aids in software: pixel counter
Casing: IP66-, IP67- and NEMA 4X-rated, IK08 impact-resistant aluminum and polycarbonate casing; dehumidifying membrane; captive screws; not designed for mounting outside a vehicle
Power: Power over Ethernet (IEEE 803af) enabled with power classification Class 1 max. 3.2 W
Edge storage: Support for recording to network share (Network Attached Storage or file server)
Operating conditions: -25 °C to 50 °C (-13 °F to 122 °F). Humidity 15 - 100% RH (condensing)
Weight 330 g (0.73 lb.)
Dimensions: 109 mm (4.3") x 107 mm (4.23") x 51 mm (2.0")
AX
IS M3113-VE
Fixed Dome IP Camera
Included Accessories
Lens tool, top cover tool, drill hole template, mounting adapters
Installation Guide, CD with installation tools, recording software and User's Manual
Windows decoder 1-user license
AX
IS M3113-VE
Fixed Dome IP Camera
Optional Accessories
Request Information:
E-mail
[Find out more...]
Axis M31-VE Series "Technical Data Sheet", 564 kB pdf file.
[Find out more...]
Axis M31-VE Series "Installation Guide", 4.732 MB pdf file.
[Find out more...]
Axis M31-VE "User's Manual", 5.490 MB pdf file.
[Find out more...]
Axis "IP Surveillance Design Guide", 12.914 MB pdf file.
To view the .pdf file, you will need the free Adobe® Acrobat® Reader or plug-in. If you do not have Acrobat Reader, please select the "Get Acrobat Reader" icon for further instructions.

AX

IS M3113-VE

- Order Details
Axis M3113-VE Standard Model
Region
Part Number
All
0412-001
Axis M3113-VE NoCap Model
Region
Part Number
All
0441-001