O

mega

C

ubed.net
Information
REG-L1, featuring Ambient Rejection Technology for reliable license plate capture at ranges up to 30 m and vehicle speeds of up to 100 mph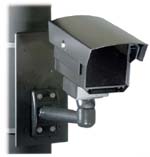 You are Here:- Home >> Products >> Illuminators >> Bosch REG >> REG-L1
-L1 License Plate Capture


REG-L1 integrates advances in optics, electronics, IR illumination and Ambient Rejection Technology to deliver consistent, reliable license plate capture in the most challenging of conditions.

With an operational range of up to 30 m (100 ft) or 25 m (80 ft) depending on license plate size, REG-L1 delivers high contrast license plate images across the complete spectrum of ambient lighting conditions, from total darkness to direct glare from sunlight and vehicle headlights. The camera can capture clear plate images from vehicles moving at speeds of up to 160 km/h (100 mph) enabling effective capture on motorways, highways and in other high speed applications.

The unit housing is weather-sealed and field proven for successful application in extreme environments. REG-L1ís LED array eliminates the need for routine bulb changes. An improved electronic design allows for energy efficient operation at 12 to 24 VAC/VDC .

REG-L1 is designed to work with NVRs or with DVRs. It is specifically designed to work with third party ANPR software.


-L1 License Plate Capture - Features
Number Plate capture up to 30 metres (100 ft) under infrared illumination
High-speed capture to 160 km/h (100 mph)
Ambient rejection technology eliminates problems caused by headlight glare
Colour overview camera
Energy efficient operation, 12V to 24V AC/DC
Advanced Ambient Rejection Technology
Compact and installation friendly design
REG is calibrated to ensure maximum accuracy. Please select the range that is appropriate taking into consideration the maximum point at which capture is required.
[Find out more...]
REG-L1 "Technical Specifications".
[Find out more...]
REG-L1 "Technical Data Sheet", 904kB pdf file.
To view the .pdf file, you will need the free Adobe® Acrobat® Reader or plug-in. If you do not have Acrobat Reader, please select the "Get Acrobat Reader" icon for further instructions.
Request Information:
E-mail


-D1 License Plate Capture - Order Details
O
mega
C
ubed.net does not sell on-line. Orders can be placed by fax, email (See
Order Options for Details) or telephone:

0121 243 3163

OmegaCubed.net is registered and assured with The SafeBuy Consumer Code of Practice to protect your purchase.
REG-L1 License Plate Capture
Model
Description
Range *
Optimal Distance
REG-L1-812XC-01
License plate reader with 850 nm LED's,
12 mm lens, SX8 camera, CCIR, black
3 to 6 m (10 to 20 ft)
5 m (16 ft)
REG-L1-816XC-01
License plate reader with 850 nm LED's,
16 mm lens, SX8 camera, CCIR, black
5 to 8 m (16 to 26 ft)
7 m (23 ft)
REG-L1-825XC-01
License plate reader with LED 850 nm,
25 mm lens, SX8 camera, CCIR, black
7 to 12 m (23 to 40 ft)
10 m (33 ft)
REG-L1-835XC-01
License plate reader with LED 850 nm,
35 mm lens, SX8 camera, CCIR, black
11 to 18 m (34 to 60 ft)
15 m (50 ft)
REG-L1-850XC-01
License plate reader with LED 850 nm,
50 mm lens SX8 camera, CCIR, black
17 to 25 m (56 to 82 ft)
22 m (72 ft)
REG-L1-875XC-01
License plate reader with LED 850 nm,
75 mm lens, SX8 camera, CCIR, black
22 to 30 m (72 to 100 ft)
28 m (92 ft)
[nm = namometer wavelength]
Note: * Range for 520 x 111 mm (20.5 x 4.4 in) license plates [Most European Countries]
REG-L1 Accessories
| | |
| --- | --- |
| Model | Description |
| EXMB.015B | Pole Mount Adapter Bracket, Black |
| EXMB.017B | Wall Mount Adapter Bracket, Black |
| EXMB.028B | Cable Managed Wall Bracket Bracket, Black |
| EXMB.029B | Ceiling Mount Bracket, Black |
| EXMB.061 | Stainless Pole Top Bracket |
| UPA-2450-50 | Power Supply 220VAC, 50Hz, 24VAC, 50VA Out |